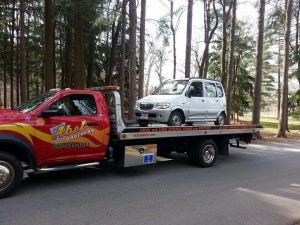 Light Duty Towing Service.  Light Duty Towing is handled by our standard tow trucks. Almost every car can be handled by a light duty tow truck.  Abel Brothers Towing has over 40 trucks on the road and we are only minutes away from providing assistance to a disabled vehicle and or stranded person.
For over 40 years, Abel Brothers Towing has been providing towing services in state of Pennsylvania and the 16 counties of southeastern PA and metro Philadelphia and Main Line.  We provide complete towing, emergency towing, repair and other services.  We work with every insurance company, over 20 municipalities, and police organizations.
In addition to towing we provide the following towing related services.
Towing – if we cannot get your car or truck to start we will tow it anywhere.
Flat Tire Change – If you have a flat we can change it for you.
Battery Jump-Start – Call us if your battery fails. If possible, it will be jump-started at the scene to help get you on your way.
Emergency Fuel and Fluid Delivery – If you run out of gas or your vehicle overheats, get the required fuel or fluids you need delivered directly to your vehicle.
Lockout Service – If your keys are lost, stolen or accidentally locked inside your vehicle, our trained operators will unlock your vehicle and get you on your way.
Call Abel Brothers Towing for any of these services.
24/7/365 road side service
Jump Starts
Tire Changing
Battery Replacement
Tire Repair
Car Lockouts
Fuel Delivery
Mud Recovery
Vehicle Uprighting
Vehicle Winching
Vehicle Rollover Recovery
Accident Recovery & Accident Clean Up